THE HISTORY as told by Tim Parks, founder of the MLB™ BallPark Pass-Port:
A number of years ago I set out on a quest to visit all "50" states by the time my daughters graduated from High School. The journey has taken me from Cadillac Mountain in Bar Harbor, ME to the Florida Keys, to the Channel Islands off the coast of southern California and as far north as the Arctic Circle. As I neared the end of my quest, I embarked on a new quest of visiting all 30 cathedrals of baseball, the Major League Baseball Ballparks.
As my journey began I would visit a ballpark and commemorate my attendance by keeping a ticket stub, picking up a game day program or a logo baseball. There was never one specific thing that I purchased, just something that proved I was there, which to be honest, I could have bought on the internet.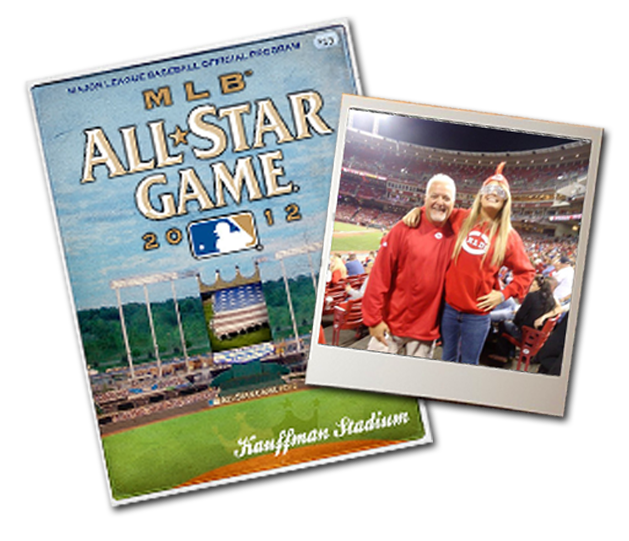 The back-to-back World Series Championships, watching future Hall of Famers and reflecting back to the age when things seemed simpler and going to the ballpark was something you did. No cell phones to interrupt, no smart phones to get your email and getting a Johnny Bench or Pete Rose autograph was a memory you never forgot. The MLB™ BallPark Pass-Port was created to document and relive just those kinds of memories.
The MLB™ BallPark Pass-Port is not a computer or a GPS, it won't even get you into another country (please don't try, lol,) but it will let you validate and authenticate the historic events you may have witnessed on your ballpark road trip. One of those historic events could have been a Nolan Ryan No-Hitter or even simply watching a game with your father. You never know what game history might be made and the MLB™ BallPark Pass-Port will be there to give you a keepsake to record those once-in-a-lifetime events.
There is no timeline to complete the journey, whether you are among the few that will attempt to visit all 30 ballparks in a season, one of the many that will complete it over a lifetime. You may just start the quest and hand it down to your son or daughter to complete! The MLB™ BallPark Pass-Port is built to span generations of baseball travels and baseball memories. I hope you enjoy this time-treasured collectible as you hit the road on your adventure to visit all 30 Major League ballparks!
Now fast forward to the summer of 2010 when I was visiting Alaska (No#49 on the list) and using my U.S. Passport, that I thought of the concept of a baseball passport that would actually authenticate my attendance and document my ballpark experience. What a great idea to combine the validation process of visiting another country, or passing through in my case, with the quest of visiting all 30 Major League Ballparks! Thus the creation of the MLB™ BallPark Pass-Port, the first in sports that lets you, the fan, validate and record your own personal baseball road trip memories.
After I returned home and laid out my thoughts on how the MLB™ BallPark Pass-Port Program would work, it stirred my own personal recollections of growing up in the era of the "Big Red Machine." I began to wish I had a treasured keepsake like the MLB™ BallPark Pass-Port to relive those moments now.